$49.99 $65.99
Every child dreams to live in space, Exqline kid's tent SPACE SERIES is just what they need! All the details are designed by heart to inspire children's imagination to explore the space world!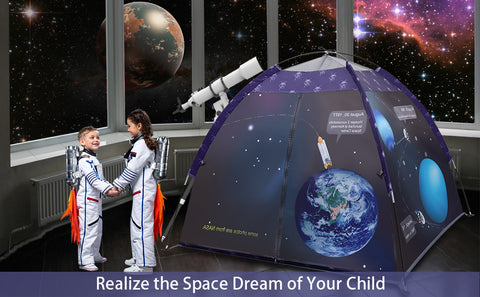 【Kids Dream Space Tent】 The Exqline Space Series toddler play tent designed with adorable space pattern designs creates a privacy playtime for kids and their friends. The Exqline Space Series is a special and wonderful gift for any child who dreams of becoming a little astronaut or likes space theme. It can stimulate children's creativity and imagination. Kids can freely and happily enjoy their personal space and feel the mysteries of the universe in the tent.
【Easy to Set Up & Fold Away】 With the reinforced and flexible fiberglass poles,

The Exqline Space Series 

kids' playhouse is easy and quick to set up in a few minutes without a problem. When folded down, it is so light and compact that can be stored into a small carrying bag provided, weighing only 0.85kg.
【Large Space】

The Exqline Space Series 

play tent measures 120 x 120 x 110 cm, which can completely accommodate 2-3 kids for playing inside with their toys and kid-sized furniture. The perfect size also makes it not take up too much space when placed in a room.
【Durable & Safe Material】The fabric is durable and fire-retardant(HB). Two sturdy and shockproof tent support rods are made of durable PE coated fiberglass, and the toddler's play tent fabric is made of high-quality polyester material, double stitched to prevent tearing, and the top mesh fabric can promote air circulation, cool ventilation, and prevent insects and mosquitoes. Parents can know the internal situation in time.

The Exqline Space Series 

provide a more comfortable and safe place to play for your children.
【Suitable for Indoor& Outdoor Playing】 The lightweight and portable tent for kids can not only be set up at home for indoor playing but also can be used outside. It can be a family playroom where kids can have birthday parties, stay overnights, and play games.

The Exqline Space Series

can also be used in backyards, schools, nurseries, playgrounds, parks, grasslands, beaches, and other places to provide private space and activity areas, making it a good place for kids to have a picnic and camp.
Specification:
● Play tent size: L47 x W47 x H43 inches
● Package sizes: L3.5 x W3.5 x H15.7 inches
● Package weight: 1.8LB
What's Included:
1*Exqline Space Series Play Tent
1* Carrying Bag